Active summer holidays in Salzburgerland
Are you looking for an unforgettable, action-filled summer holiday? Then Salzburgerland is the right destination for you. Beautiful mountains, a healthy environment and wonderful fresh air. There are a huge number of activities on offer to ensure you enjoy yourself during your holiday in the region. The choice is yours.
Without exaggeration: Salzburgerland is a paradise. Set out on foot or by mountain bike along the picturesque signposted paths through woods and over fields, in both the mountains and the valleys. Along the way, you will find many wonderful places to eat and drink where you can rest and enjoy unique culinary specialities such as Almkas, Bauernspeck and Vogelbeerschnaps.
Sun worshippers and water lovers have plenty to enjoy. The attraction of the natural lakes is irresistible: a wonderfully refreshing dip, playing and swimming in the water, followed by relaxing in the warmth of the sun. If you prefer the sauna, visit the Amadé Thermen, a sauna that is a real experience, suitable for all ages.
A unique experience: climbing in the Hochseilgarten in Flachauwinkl. A climbing tower, rope bridges, cables. Enough challenges to expand your horizons. Want even more adventure? Then why not go rafting and canyoning? Salzburgerland has it all!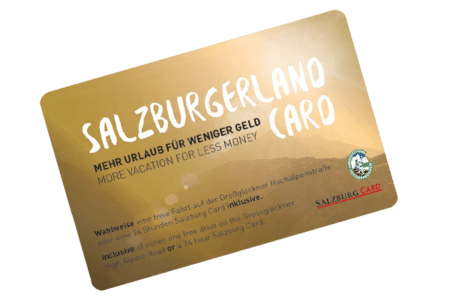 The Salzburgerland Card is a 'must'. You have access to 190 attractions and sights in Salzburgerland. The choice is overwhelming: castles, museums, exhibitions, zoos, lakes, swimming pools, saunas, nature reserves and cable cars, to name just a few.
The 7 top excursions in and around Salzburg
Tastes differ and therefore, in random order, these are the 7 top excursions in Salzburg and surrounding areas:
the world's largest ice cave in Werfen;
the reservoirs and glacier world of Kaprun at an elevation of 2040 m;
Grossglockner Hochalpenstrasse: the road to the heart of Hohe Tauern National Park, Austria's highest mountain as the final destination, the Grossglockner (3798 m);
Hellbrunnn Palace: the yellow castle, the zoo, the park and the fountains;
Hohensalzburg Castle, one of Europe's largest castles;
Freilichtmuseum: the largest museum in Salzburg;
Museum of Natural History and Technology.
An apartment in a pleasant, small-scale complex is the ideal base to enjoy the gorgeous surroundings each day.